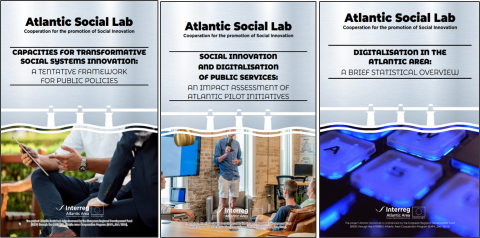 Atlantic Social Lab finishes after six years of helping to comprehend and implement social innovation
The Atlantic Social Lab, a pioneering initiative to promote social innovation in the Atlantic region, is coming to an end. The project has made significant progress in raising the profile of social innovation in addressing contemporary issues. Through a series of pilot actions, the publication of technical reports, observatory updates, communication activities and capitalisation efforts, the partnership hopes that the project has left a lasting impact on the participating communities.
In its second phase, which began in June 2022, the Atlantic Social Lab project included a wide range of pilot actions, each designed to address specific challenges connected with digitalisation:
Youth Compass - a digital platform that connects young people with local experts, has successfully bridged the gap and provided valuable support for youth empowerment, developed by Info Jeunes Toulouse (CRIJ).
"No Lo Pierdas, es tu Derecho" - different media formats to communicate the availability and location of social services directly to people, which facilitated improved access to essential social services, developed by the City of Avilés.
Improving the Communication Policy of Social Services in Gijón - this initiative has improved accessibility and efficiency in the delivery of key social services, thereby promoting a more inclusive society.
Building Community Wealth in Enterprise North West - aimed to optimise public spending to achieve the greatest possible economic, social and environmental benefits. This involved improving the commissioning and procurement skills of the social economy and government purchasers alike, ultimately leading to improved service delivery by social enterprises and community organisations.
The Art of Straw in CIM Ave - a framework has been established to promote economic opportunities and empower individuals through the different stages of straw production, combining local tradition with innovation.
In addition to these pilot actions, three technical reports have been published, providing valuable insights and assessments. These reports include "Capacities for transformative social systems innovation: a tentative framework for public policies", "Social Innovation and Digitalisation of Public Services: An Impact Assessment of Atlantic Pilot Initiatives" and "Digitalisation in the Atlantic Area: A brief statistical overview".
One of the lasting outputs of the project is the Atlantic Social Innovation Observatory. To ensure the continuity of the observatory beyond the project's end, it is being regularly updated and a sustainability report has been developed, clarifying its long-term operation and relevance.
As the project is ending, its contribution may continue to inspire future endeavours in social innovation. The project has demonstrated the immense potential of social innovation inspired-approaches in addressing contemporary societal challenges and building more inclusive communities.
For further information about the Atlantic Social Lab project, including access to project resources and publications, please visit http://atlanticsociallab.eu/.
The Atlantic Social Lab, led by Avilés City Council (Spain) is co-financed by the European Regional Development Fund (ERDF), through the INTERREG Cooperation Program Atlantic Area, with the reference EAPA_246/2016.
Coimbra, 20 June 2023
Contact person:
Principal Investigator (PI) at CES, Hugo Pinto hpinto@ces.uc.pt