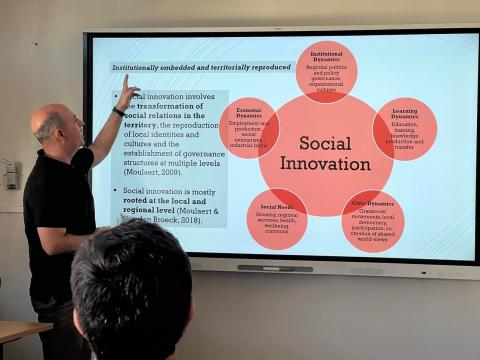 Atlantic social lab was presented at the Open Masterclass on Social Innovation and Territorial Dynamics
Today, 26 April, Faculty of Economics, University of Algarve  in partnership with the Centre for Social Studies at the University of Coimbra hosted an Open Masterclass on Social Innovation and Territorial Dynamics under the European project Atlantic Social Lab.The event was presented by Professor Hugo Pinto, the principal investigator of CES. The main aim of the masterclass was to provide a perspective on social innovation, drawing on his experiences in the Atlantic Social Lab and briefly present the research conducted in this project since 2017.
During the masterclass, Professor Hugo Pinto explained how social innovation can be used to address complex social challenges. He also discussed how territorial dynamics can influence social innovation, and how it can be used as a tool for regional development.
This open event gave participants the opportunity to learn more about the work of the Atlantic Social Lab project, and to engage with Professor Hugo Pinto and other members of the CES team.
Overall, the open masterclass on social innovation and territorial dynamics was a great success and provided valuable insights into the importance of social innovation in tackling social challenges.
The professor closed the masterclass with the following sentence: "All innovation is social"
The Atlantic Social Lab project, which was launched in 2017, aims to foster social innovation in the Atlantic Area. The project is funded by the European Regional Development Fund and involves partners from Portugal, Spain, France, Ireland and the UK.