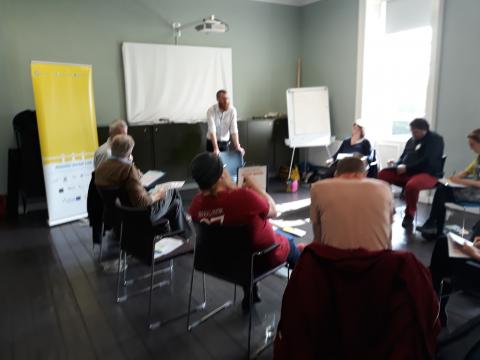 Storytelling Workshop for Social Enterprises in Cork
The Atlantic Social Lab project in Cork held a "Storytelling Workshop for Social Enterprises" in Nano Nagel Place, Cork on the 18th of April 2019.
This event was facilitated by expert storyteller Dave Dunn and looked at ways to actively engage an audience so that they want to listen and hear the story being told. It covered the different elements of storytelling including "Clarity || delivering the message you want to deliver: what to say, what not to say";  "Confidence || a boost for when you're in the spotlight"; "Courage || helping you to go out and find new audiences" and "Connection || receiving a real response from people who can relate to your message".
The workshop also used guided discussions and group exercises to teach the storyteller's craft to deliver a message in an engaging manner and identify common risks and pitfalls when pitching an idea or concept.  It gave workarounds and recovery strategies for common mistakes and explored the Dos and Don'ts of public speaking.  
The workshop ended with a clinic style session where some participants were given the opportunity to practice their presentations and receive feedback from the facilitator and other participants.
This event drew nearly 15 participants from across the region with all participants actively engaging making this a very successful event.