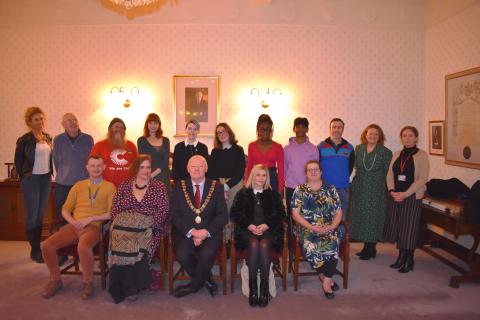 Winners of Cork Voices Campaign Celebrated
The winners and creators of a novel project which empowered the public to choose how public funds are allocated were invited to Cork City Hall by the Lord Mayor, Councillor John Sheehan on Thursday the 5th of December.
The 'Cork Voices Campaign' was a participatory grant making scheme for Cork City Public Participation Network (PPN) members where shortlisted applicants were videoed outlining why their particular project should be funded. The public had the opportunity to view these videos and vote on how the grant funds should be allocated.
Open to all Cork City PPN members this campaign was co-funded and run by Cork City Council, Enterprise Ireland, Cork City PPN and the Atlantic Social Lab project in association with Fingal County Council.
The winners included:
• Comhairle na nÓg
• Cork Gay Project - GOLD - Gay Older Gents Group
• Cork Nature Network
• Cork Cycling Campaign
• Mahon Family Resource Centre
• International Community Dynamics - Empowering independent living after direct provision
• Boomerang Enterprises
• Meitheal Mara
• CouchSurfing - Be Welcome
Over this very successful campaign 2,555 public votes allocated a total of €5,000 to these 9 community groups and the Cork Voices social media pages had over 50,000 impressions.
At its core, participatory grant-making is about bringing positive projects that improve the community to the people and then giving the people a chance to influence what gets funded. Whoever gets the most votes – gets the most funding. It is a simple form of direct democracy which allows the public to have a direct say in how public funds are allocated.
While participatory budgeting and grant-making have been growing across Europe, they have not been tried in Ireland yet, so this was a first for the city and country.
The whole area of participatory budgeting is an example of best practice from the Atlantic Social Lab project's Spanish partners. During a study visit to Santiago de Compostella, project partners were shown a space dedicated to play and leisure which was the result of a participatory budgeting initiative run by the Santiago de Compostella City Council. As a result of this visit and working closely with the Cork City Public Participation Network ('PPN') through the Enterprise Ireland SBIR Programme this Cork Voices Campaign was launched. It was a direct result of Cork City Council's involvement in, and learning from, the Atlantic Social Lab Project.