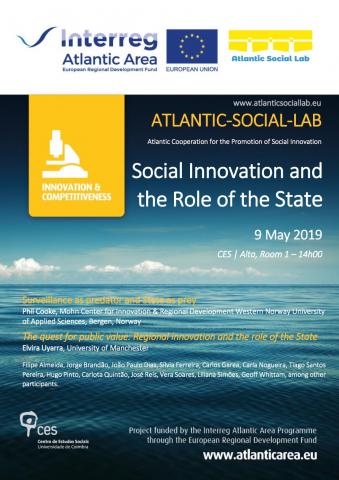 Coimbra debates Social Innovation and the Role of the State
Within the Atlantic Social Lab project, the Centre for Social Studies is organizing an International Workshop entitled "Social Innovation and the Role of the State". The event aims to discuss social innovation, allowing the reflection on the roles of various actors, namely the State, in generating innovative responses to social needs.
The Workshop Program is divided into two moments of learning and knowledge sharing. First, there will be a Plenary Session, in English, bringing together two renowned experts, Phil Cooke (Western Norway University of Applied Sciences) and Elvira Uyarra (University of Manchester). The second moment of the Workshop is a debate on the theme of social innovation, a Round Table, in Portuguese, on the Dynamics of Social Innovation and the Role of the State. Participating in this Round Table are Carlota Quintão (Director of the A3S Association), Filipe Almeida (President of the Directive Commission of the Portuguese Social Innovation Initiative), Jorge Brandão (Representative of the Commission for Regional Coordination and Development), Liliana Simões (Coordinator and Founder of Microninho_Incubadora Social) and Vera Soares (Representative of the Intermunicipal Ave Community).
The event will take place on May 9, Thursday, at 2:00 p.m., in room 1 of the of CES Alta facilities in Coimbra. This event may interest to local, regional, national and international policymakers, third sector organizations, practitioners of social innovation, and social entrepreneurs. It is also of potential interest to professors, researchers and students in these subjects. Registration is free but mandatory.
More information at:
https://ces.uc.pt/en/agenda-noticias/agenda-de-eventos/2019/social-innovation-and-the-role-of-the-state