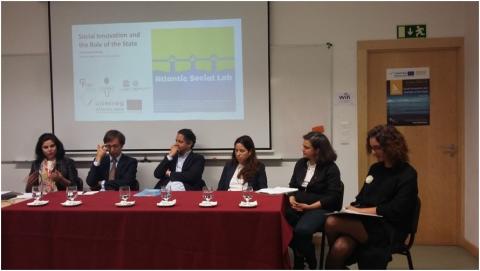 International workshop in Coimbra discussed Social Innovation and the Role of the State
The Centre for Social Studies organized, within the framework of the Atlantic Social Lab project on May 9 2019, an International Workshop entitled "Social Innovation and the Role of the State". This workshop, held in Coimbra, aimed at the comprehension of social innovation in the development of public management mechanisms as well as exploring challenges of public policies.
The programme of the workshop had three key moments: an opening session with representatives from the project partnership, the secretariat of the Atlantic Area Program, and the local organizing chair; a plenary session with two internationally keynote speakers; and a roundtable with social innovation Portuguese key stakeholders
Concerning the plenary session, the first intervention, entitled "Surveillance as predator and State as prey", was carried out by Phil Cooke, currently Professor at the Mohn Centre for Innovation & Regional Development Western Norway University of Applied Sciences. The second intervention "The quest for public value: Regional innovation and the role of the state" was made by Elvira Uyarra, currently Reader in Innovation Policy and Strategy at the Manchester Business School Alliance (University of Manchester).
The roundtable was centred on the dynamics of social innovation and the role of the State. It was moderated by Sílvia Ferreira, Professor at University of Coimbra and Researcher at CES. The debate was attended by Carlota Quintão (Director of the A3S Association), Filipe Almeida (President of the Directive of the Portuguese Social Innovation Initiative), Jorge Brandão (Representative of the Commission for Regional Coordination and Development), Liliana Simões Coordinator and Founder of Microninho_Incubadora Social) and Vera Soares (Representative of the Intermunicipal Ave Community).
A report with the key conclusions of the international workshop can be found here.