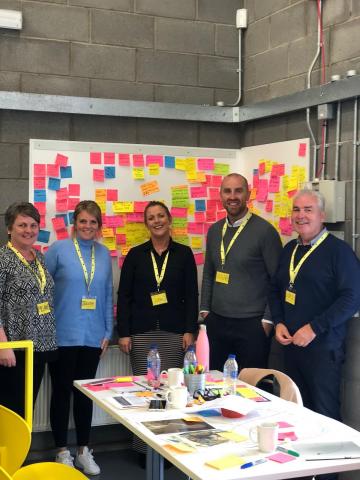 Social Innovation Conference organized by Enterprise North West in Belfast (3rd and 4th of October 2019)
As part of the Atlantic Social Lab, Enterprise North West organized and facilitated a group of social change actors and influencers to attend the conference and to partake in the overall session as well as the workshop sessions during the days. This group represented the only attendees from the North West of NI.
In attendance over the 2 days were 30 social change actors and organisations from across NI. The mix of attendees included local community and voluntary groups, social enterprises, social entrepreneurs, local councils, universities, central government departments, local stakeholders and other decision makers from across the spectrum of NI social change organisations and facilitators.
This conference aimed to consider and debate action for social change. As such, those attending as part of the Atlantic Social Lab project networked and partook in the workshop sessions in reflecting on emerging thinking and practice that is driving local economic development across NI and present recommendations on what needs to be done to drive social change in NI. The event and plenary sessions also celebrated the role of community development activists and how, as social change agents, they facilitate the empowerment of citizens to shape the spaces they live in.
You can find a summary of the event in this link:
 http://www.atlanticsociallab.eu/sites/default/files/2019-10/7.Networking%20Events%20template%20-%20ENW%20Network%20Event%20%28Oct%202019%29%20%28Social%20Innovation%20Conference%29.pdf